December 19, 2007 - 6:53 am - Posted by iDunzo
The Zelco Outi bone conducting headphones comprises a pair of vibrators and a four-level amplifier which together send the sound waves into the bone and cartilage behind the ear.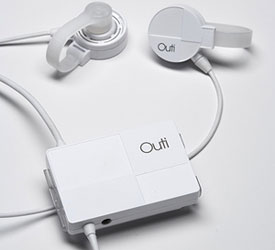 Input is via a standard 3.5mm jack, and the set comes bundled with a USB charger and AC adapter: fully charged you'll get up to eight hours listening time.
I have a hard time believing this kind of sound delivery will give anything like the fidelity of normal headphones, but it won't batter your eardrums quite so much.
Apparently when Popular Mechanics tested the kit, the reviewer noted that the bass feel is much more speaker-like: "both intense and felt through your entire body".
Now if you want to really rattle your bones, turn your volume up to 11 (insert Spinal Tap reference) and Cum On Feel The Noize:
Don't you just love the smell of metal in the morning? \m/