January 27th, 2008 by iDunzo
What you see before you is a telephone. It is not a cellphone. It is not a VoIP phone. It does not have Skype or DECT or some other marketing-friendly electrical engineering designation. It is not even cordless.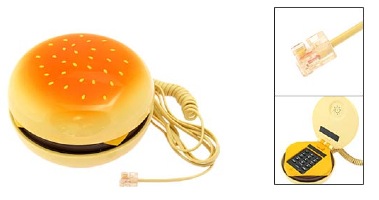 What it is, however, is a plastic hamburger. Why the sudden proliferation of cheap hamburgerphones? A movie, of course.
Source: Film Junk
Posted in Food + Technology + Toys & Gadgets |
1 Comment »