November 28, 2007 - 6:44 am - Posted by iDunzo
This Apple iPod has been split and separated like an exploded diagram, and encased in resin. The amazing thing is that it still works.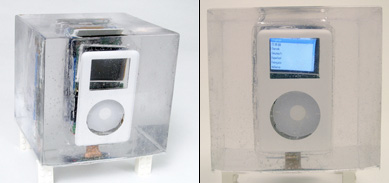 Poured in layers, just like jelly, the iPod sits in a bubbly cube, with control via the included dock internals and the project, by Billy Chasen, is made geek-perfect by the inclusion of Lego feet.
Hopefully Billy will go to work on a more recursive meta-project next: An Apple G4 Cube, encased in a cube.