October 12, 2007 - 5:35 am - Posted by iDunzo
Google pays tribute to Luciano Pavarotti (October 12, 1935 – September 6, 2007), Cavaliere di Gran Croce was a celebrated Italian tenor in operatic music, who successfully crossed into popular music becoming one of the most beloved vocal performers.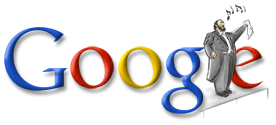 While undertaking an international "farewell tour," Pavarotti was diagnosed with pancreatic cancer in July 2006.
The tenor fought back against the implications of this diagnosis, undergoing major abdominal surgery and making plans for the resumption and conclusion of his singing commitments.
On September 6 2007, however, in an e-mail statement, his manager, Terri Robson, wrote: "The Maestro fought a long, tough battle against the pancreatic cancer which eventually took his life. In fitting with the approach that characterized his life and work, he remained positive until finally succumbing to the last stages of his illness."