September 8, 2003 - 7:09 am - Posted by iDunzo
Five years ago, Google founders Larry Page and Sergey Brin incorporated their tiny company.
The reason? So they could cash a $100,000 personal check that had been sitting in Page's desk drawer for a couple of weeks.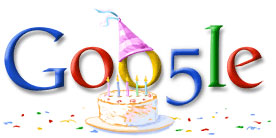 As Stanford graduate students, Page and Brin had been working together on a search engine they called "BackRub" since early 1996.
By 1998, with the encouragement of Yahoo! co-founder David Filo, they decided to start a company, and went looking for investors to back them.