November 7, 2007 - 5:47 am - Posted by iDunzo
If you don't know your Krypton from your Kryptonite, this vinyl shower curtain is here to help.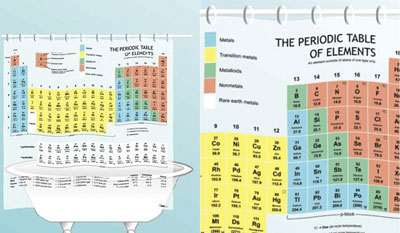 Printed with the entire Periodic Table of Elements, peruse the atomic weight of calcium whilst simultaneously considering the limescale on the faucet.
You can purchase this geek-tastic shower curtain from Amazon.com for $30.95 USD.
As an added bonus, you can also get what looks to be the exact same shower curtain from Think Geek for $29.99 USD.