October 15, 2007 - 8:18 am - Posted by iDunzo
A new add-on for the RTS title World in Conflict will allow players with Vista and DirectX 10 to broadcast their WiC matches, TV-style.
You can use pre-set or follow cameras and even some telestration if you want to point out something especially fascinating to your viewers.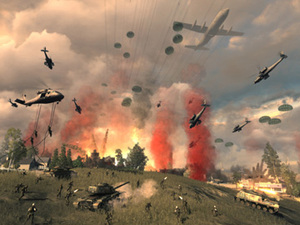 You'll also be able to create a movie of the broadcast, to share later with friends and loved ones. The free broadcast tool should be available some time today from Sierra.
Hopefully, developer Massive will make up for delaying the 360 version of World in Conflict by using the extra time to include this new recording feature. It's the least they can do.