November 27, 2007 - 6:02 am - Posted by iDunzo
The Apple iPod Nano is so tiny and light that a chunky hard case would at least triple or quadruple it's weight, defeating the whole point of the little player, right? Wrong.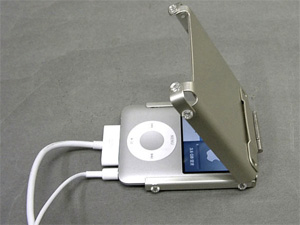 The Metal Jacket weighs in at around 35 grams, versus the 3G Nano's already featherweight 49 grams. The case is internally cushioned, and is hand made.
You can even dock the iPod with its jacket on. Geektastic!
This model is priced at ¥8,900 ($82) plus shipping, and maker Shimura also has models for the iPod Classic, the Sony PSP and Nintendo's DS Lite.