October 22, 2007 - 5:40 am - Posted by iDunzo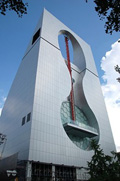 It's said that Japan has some of the fastest elevators in the world.
Apparently it has something to do with different cultures having differing comfort and tolerance levels.
Even so, the Yabafo might test the mettle of even the craziest of our Eastern speed loving friends.
Designed by Shin Takamatsu, the Yabafo is part of a new amusement complex in Osaka, called NamBa HIPS, and is the first freefall ride to be built into a building.
During the 74 meter (243 feet) drop, the six person casket will hit 22 meters per second (50 MPH).
The crazy part of this is that the world's fastest real elevator isn't far off this speed at 17 meters per second (38 MPH), and that's on the way up.
The park is due to open in December 2007. If you visit, I suggest not eating beforehand.